After more than a dozen years of sourcing and roasting coffee for some of New York's finest restaurants, hotels and caterers, Afficionado Coffee Roasters has opened its own outlet, in Hell's Kitchen in Manhattan.
The company is simultaneously rolling out an innovative line of canned coffee drinks using coffee beans and fruit (cascara), along with other ingredients from the coffee tree such as pergamino (parchment), leaves and flowers. The company emphasizes these ingredients as "the five consumable parts of the coffee plant".
The Cafe Afficionado
The Afficionado Cafe is soft-opening this week on the southeast corner of 11th Avenue and West 53rd Street in Hell's Kitchen, directly across from Dewitt Clinton Park.
The 1,200 square foot cafe is designed to transport Manhattanites to faraway places around the Coffee Belt with a touch of luxury, while meticulously showcasing the Afficionado brand.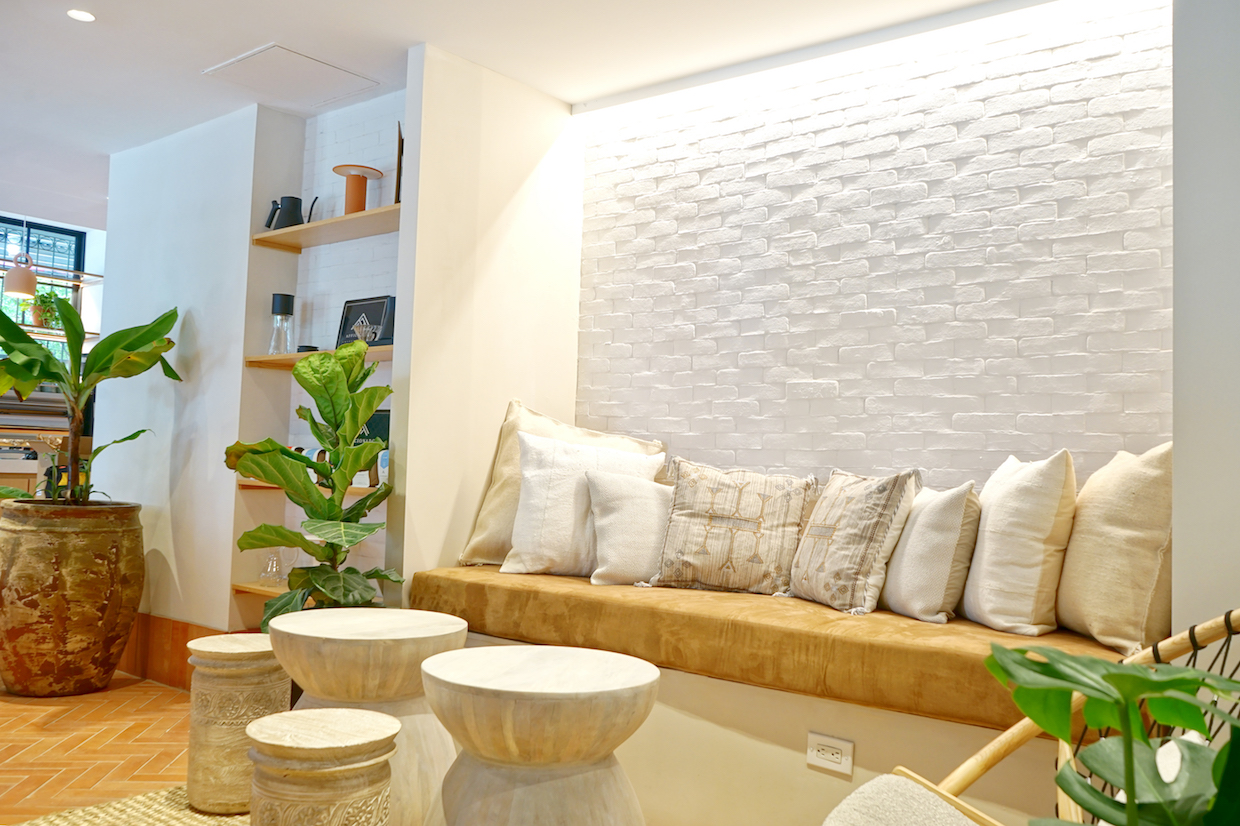 The design concept for the store — which Afficionado Coffee Roasters co-founder and CEO Adam Bossie described as having a modern, "safari-style" vibe — was spearheaded by local firm Studio Galeón.
While Bossie noted that coffee is indeed serious business, especially at the farm level, the shop is meant to reflect a lighter appreciation of coffee in an environment that is both fun and somewhat cosmopolitan.
Says Bossie, "It's light sophistication, but we're talking coffee here."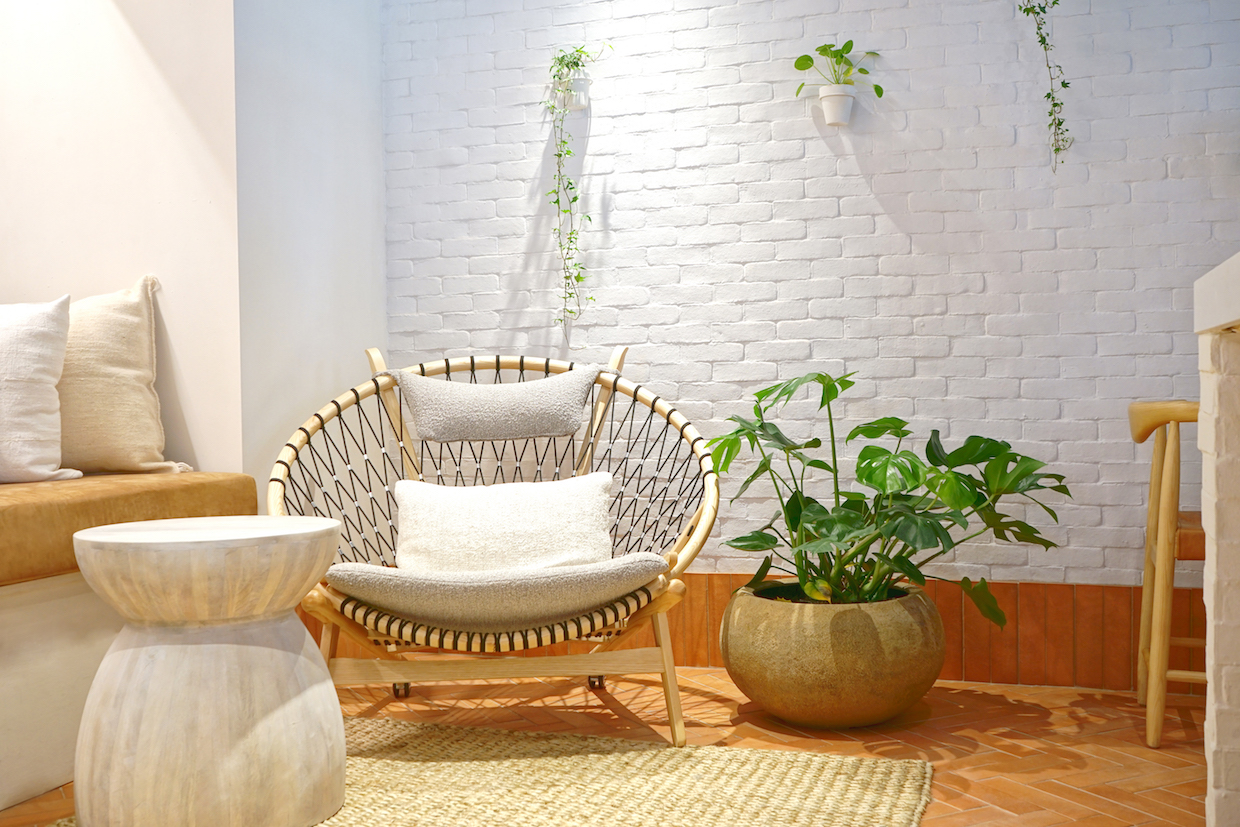 Tropical style elements combine with modern arrangements for a relaxed and spacious experience, while decorative art throughout the boutique comes from Bossie's own travels around the world.
"Even down to the hand soaps we use in the bathroom, these are handcrafted products from local companies like Malin + Goetz — there's no missing element in what we do," Bossie said. . "This is more of an "experience" cafe than a cafe there to make a ton of money."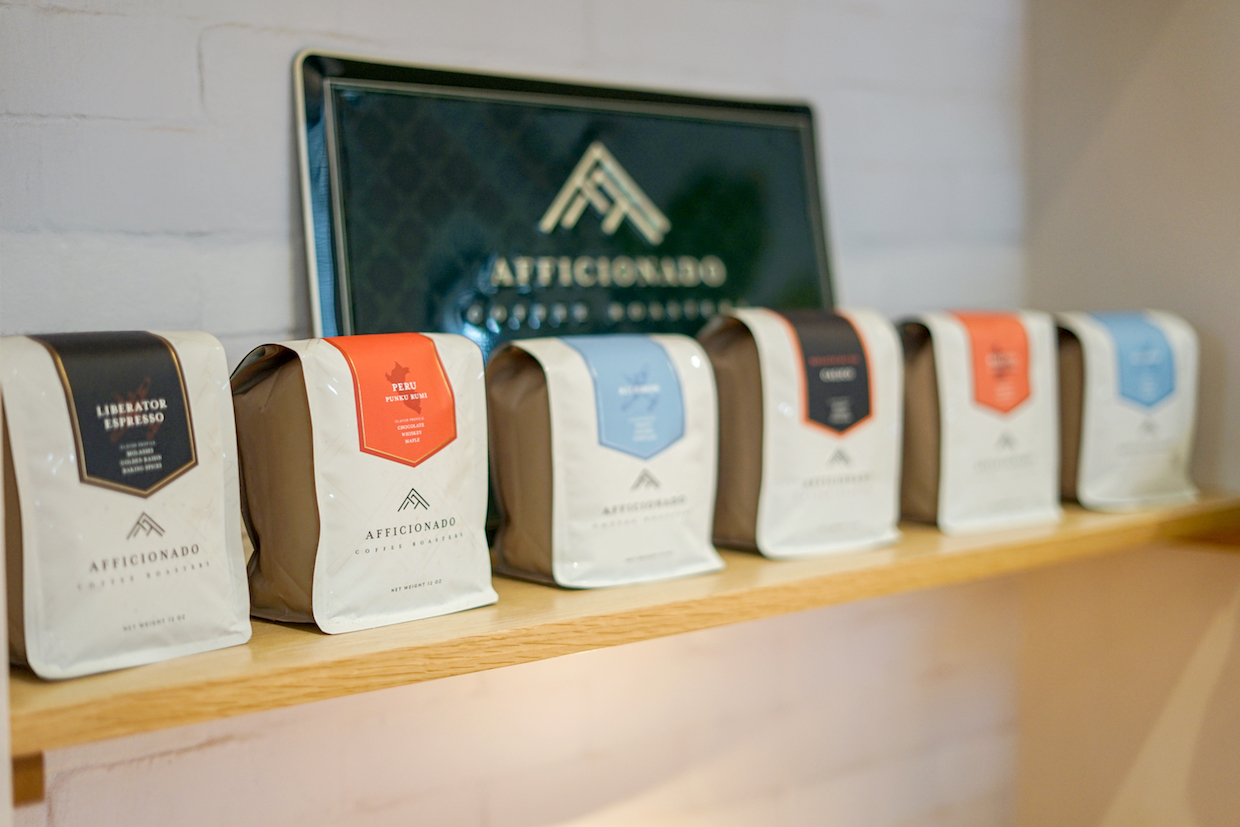 Fresh food items prepared at the store are also designed to reflect world travel, while they may optionally be paired with beer and wine offerings. Perhaps a cocktail program in the works will emphasize "the five consumable parts of the coffee tree".
For the soft-opening stretch, a La Marzocco Strada maintains the espresso menu behind the bar until a GB5 supplants it in the coming days, while a Fetco system turns out batch brewing. For hand brews, Bossie is passionate about promoting a method he thinks the industry has abandoned: the coffee sock.
"No one talks about coffee socks, and when I backpack through South America and Africa, it's the one thing I would never leave home without," Bossie said. "Person [in the U.S.] uses it, and it makes – if you do it right – amazing coffee, and that's how all the families working on the farms make their coffee. So we're really going to push this cafe hardcore.
---
Related Reading
---
The coffees come from the same Afficionado's roastery in New Jersey under the supervision of a team led by Peter Turso on a 1955 Gothot roaster with a capacity of 90 kilos. Roasting is where Afficionado now produces and cans its ready-to-drink beverages.
The five consumable canisters
Afficionado's new line of canned beverages embraces the idea that natural coffee by-products that might otherwise go to waste can serve as compelling ingredients while adding revenue streams for producers.
While cascara – the dried layer of coffee cherries surrounding the bean that delivers tart, fruity flavors – has received the most attention in the coffee industry, Afficionado takes the notion further by using the flowers of coffee trees, of pergamino (parchment) and coffee tree leaves.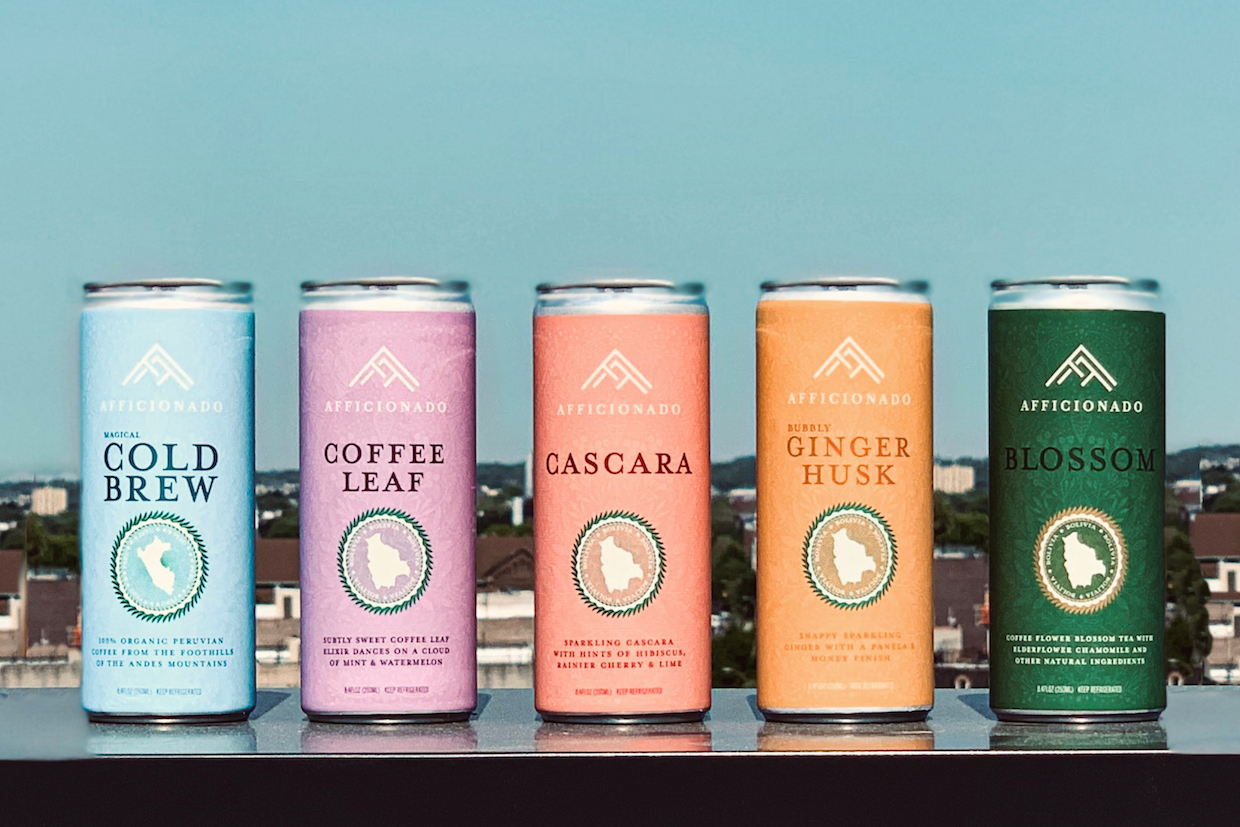 Raw materials come from relationships with farms in Peru and Bolivia, according to the company.
The five-drink line features a simple cold brew involving a 14-hour brew of a single-origin semi-washed Typica coffee grown near Lambayeque, Peru. Cascara's bubbly concoction features a dried Caturrra cherry on raised beds in Caranavi, Bolivia, with hints of hibiscus, rainier cherry and lime.
The Blossom drink uses flowers picked from young Gesha coffee trees, according to Afficionado. Dried and soaked flowers combine with elderflower, chamomile and other ingredients in the finished drink.
The Ginger Husk drink uses the thin layer of parchment lost from the coffee beans during processing. The material is combined in the finished product with ginger and panela sugar.
A forthcoming Coffee Leaf drink contains material from routine post-harvest pruning. Afficionado blends its leaf infusion with flavors of mint and watermelon, suggesting it as a chilled beverage.
"We looked at all aspects of how they use these products on the farm," Bossie said. "We really needed to watch and see how these segments of the coffee tree were re-incorporated from all angles. For us, being able to import it and use it as a drink creates another source of income for our producers and for our workers… And the coffee leaf, you are starting to see it coming. In five or six years, beverages made from coffee leaves are going to be massive. It will probably be much bigger than the cascara.
---
Afficionado Coffee Roasters is located at 750 11th Ave in New York City. Tell us about your new coffee or roast here.
howard bryman
Howard Bryman is associate editor of Roast Magazine's Daily Coffee News. He is based in Portland, Oregon.