Bunzy's & Booze, 1919 E. Boulder St., is the perfect place to enjoy a zesty Midwestern sandwich, stone-baked pizzas and cookies. It's the inspiration of owner Nicole Martinez, with Debbie Downing preparing the food. Both women are not new to the restaurant industry. Martinez was part of the Nourish Organic Juice business a few years ago and Downing owned Gotta Love It Kitchen, where she sold her famous stuffed sandwiches at the time.
They originally operated the new business out of a food truck. It was the bunzys who put them on the culinary map by selling their signature sandwiches at Switchbacks football games. A bunzy is a stuffed sandwich that starts with homemade yeast dough stuffed with a hearty, indulgent filling. They are similar to a Bierock, which is popular in Kansas and Nebraska. Downing has a fun range of stuffed sandwiches, from green chili chicken to vegan Philly steak.
"It was the vegan community that supported us with the food truck at the Switchback games," Martinez said. "It has made a big difference in the success of our business. In fact, much of our menu can be vegan.
In March, they expanded the operation to a brick and mortar with the addition of a full bar and they added a nod to alcohol in the restaurant's name. The restaurant's pizzas come with a combination of toppings and a "build it yourself" option. Tuesday taco and Sunday brunch are available. Happy hour is daily from 3-6 p.m. with live music and open mic nights during the week. Hours of operation are 11 a.m. to 11 p.m. Monday through Saturday and 9 a.m. to 4 p.m. Sunday. Details: 719-203-5522, facebook.com/bunzysandbooze.
New sandwich chain
Snarf's Sandwiches, a Boulder-based chain, opened at 7495 N. Academy Blvd. They serve oven-toasted sandwiches on a choice of white, wheat or gluten-free breads, soups and salads and are known for their giardiniera peppers, which can be bought in jars. Hours are 11 a.m. to 9 p.m. daily. Details: 719-358-700, facebook.com/snarfssandwichesacademy
Married Colorado Springs chefs open new restaurant in former Michelle's Chocolatiers location
viking dinner
Ready to take the plunge and enjoy a plate of lutefisk? Sons of Norway Lodge is there for you. The annual Lutefisk and Meatball Dinner will be held at Viking Hall, 1045 Ford Street. There will be two settings: 1 p.m. and 4 p.m. on Nov. 12. Cranberry sauce, lefse (soft Norwegian flatbread) and coffee. Places will be limited. A Scandinavian Butikken (gift market) will be available for holiday shopping. Products on sale include lefse (six rounds per pack) $10, lutefisk (1 pound) $15, herring $12 and lingonberries $8. On-site or take-out dinner tickets: members $22, non-members $25 (16 and over), students (10-15) $10 and free for children under 10.
Visit sonsofnorwaycs.com.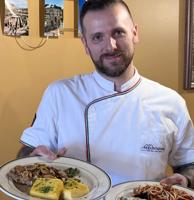 Offers for veterans
Here are some specials for military members in our community on Veterans Day, November 11, unless otherwise noted.
• Red Lobster — Offers veterans, active duty, and reservists a free Walt's Favorite shrimp, fries, and coleslaw to eat in or take out from 11 a.m. to 4 p.m. Valid military ID or proof of service required to redeem offer.
• Starbucks — will provide free large hot or iced brewed coffee (12 ounces) to veterans, military personnel and military spouses.
• BJ's Restaurant and Brewhouse — Current and former service members receive a complimentary meal from a select menu. Dining room only.
• Chili's — Veterans and active duty military members receive a free meal from a select menu. Dining room only.
• Cicis Pizza — Serving and retired military enjoy a free adult buffet. Dinner only and does not include drinks.
• Cracker Barrel — Veterans receive a free slice of Coca-Cola Double Chocolate Fudge Cake in-store or online.
• Freddy's Frozen Custard and Steakburgers – Veterans and active military members receive a free Freddy's Original Double with Cheese meal card that can be redeemed until November 30.
• Golden Corral — Hosting a Military Appreciation Night on Nov. 14 from 5:00 p.m. to closing. This includes a free thank you meal when you dine on site.
• Hooters — Active duty military and veterans get one free entry to the Hooters Veterans Day menu with the purchase of a drink. Dining room only.
contact the author: 636-0271.
contact the author: 636-0271.