New owners are local with experience in the restaurant industry
Oscar's Cafe new owners Kelly Bennett, left, and Guy Winzenread, along with Leanna Bennett, left, and Jennifer Hull are seen inside the restaurant on Tuesday during a ribbon cutting by the new owners. (Jerry McBride/Durango Herald)
Jerry McBride
From the moment Kelly Bennett walked into Oscar's Cafe seven years ago, he knew the place was special. A staple of Durango culture, he was impressed with the decor. With old Snowdown posters decorating the walls as a yearbook homage to Durango's past and model trains zipping above the tables, he knew he wanted to be a part of it. Now he and his business partner Guy Winzenread own the restaurant.
Oscar's began when Paula and Bruce Berg opened the restaurant 42 years ago and has become a household name in the Durango restaurant scene. It is even said that before the Internet, Oscar's was the place people went to discuss the news in town. Business meetings, family outings, and various social events all started with a meal at Oscar's, and little changed.
"It's the local booze-free bar in the morning," Bennett said. "Business is done. Lawyers come and meet.
People gather at Oscar's Cafe in Town Plaza April 19 during a celebration of new owners Kelly Bennett and Guy Winzenread. (Jerry McBride/Durango Herald)
Bennett and Winzenread have spent most of their careers working in restaurants. Prior to Oscar's, Bennett worked for Golden Corral and Applebee's, winning national awards with both restaurants. He also spent a few years working at the Lone Spur Cafe managing day-to-day operations.
"I was working my ass off during COVID and that's when I had the epiphany that if I had to work this hard, I might as well do it for myself," he said.
Winzenread spent the last year working at Purgatory Resort as manager of the Durango Mountain Club, and prior to that worked in restaurant POS system repairs, in addition to being manager at Carver Brewing Co.
"Technical services were really my bread and butter, but when COVID shut down restaurants, I was looking for guaranteed income again," he said.
Both pride themselves on being selfless and understanding when it comes to their employees and paying a fair wage. Coming from a restaurant background, they understand what it's like to work in services in Durango for a living.
Leanna Bennett cuts a pie at Oscar's Cafe during a celebration on April 19. (Jerry McBride/Durango Herald)
"I would put our kitchen salaries against anyone in town," Bennett said. "Our staff are excellent at what they do and, coming from where we come from, I know what we ask them to do every day. The vision for us is to have a family environment where people are paid very well to do a job where others try to get by being paid $14 to $15 an hour. It's worth more than that to me.
Both are proud to be an employer of choice in the city and believe that staying true to the values ​​of their restaurant experiences will create a positive work environment for employees in the service industry. However, this is not strictly the concept of an Oscar; the two started what they call the 550 Food Group and hope to take their ideas to other establishments.
"Imagine being able to hire someone in a restaurant and if they're also looking for work somewhere else, you can always place them somewhere else," Winzenread said.
Both believe that being active owners helps them see from the perspective of their employees and will further help them be exemplary leaders.
Although minor improvements have been made, the new owner insists that the Oscar remains the same as it always has been. The restaurant's biggest improvement is the little train that passes above the restaurant's tables and bar. It was specifically designed to look like the Durango-Silverton train.
Oscar's Cafe new owners Kelly Bennett, left, and Guy Winzenread, along with Leanna Bennett, far left, and Jennifer Hull cut the ribbon on April 19 to celebrate the new owner. (Jerry McBride/Durango Herald)
"Apparently there are train magazines telling people to come here (Oscar) because there's a train running, so we thought we'd embrace it," Bennett said. "We're making a lot of 20-year decisions right now, and that's our marketing over the next two years. I could advertise in a newspaper or on the radio and I wouldn't get as much return as with this train.
The only other major change to the restaurant was the name of the French toast. The new owners have renamed it to honor one of the previous owners, Bruce Berg, who recently passed away.
"We haven't made any changes that may affect the overall customer experience," Winzenread said. "We didn't want the Oscars to change and we thought no one really wanted us to change."
Although there have been many questions about the introduction of alcohol to Oscar's menu, the new owner wishes to maintain the values ​​placed by the previous owners and does not wish to make any drastic changes.
"People ask if we're going to start serving mimosas and Bloody Marys. No, that's not the plan," Winzenread said. "It's a big change for the place and we're not trying to do that."
This summer, the restaurant will have different hours from Memorial Day to Labor Day. For those taking the train in the morning, Bennett wants to open at 6:30 a.m., but the times are not finalized.
They said it would create a better experience for tourists and locals.
"We will probably open at 6 or 6:30 p.m., definitely at 6:30 p.m. we will see about 6. Nothing more than to capture the train crowd, so our locals can still enjoy their consistent experience," Bennett said. "We don't want to be crowded with so many tourists that locals can't even get in because it's their home."
The duo had a ribbon cutting on April 19 to signify the change of ownership.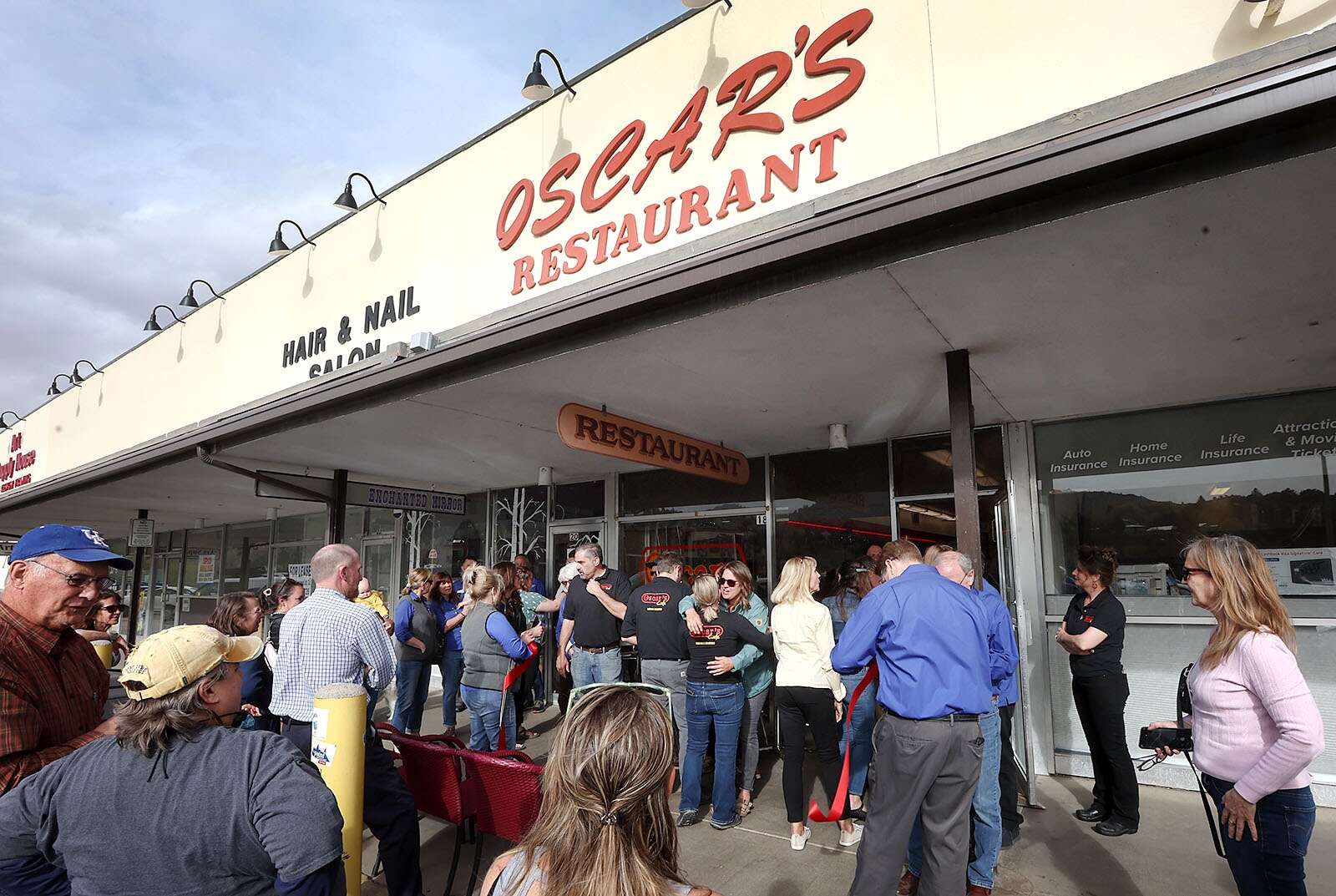 People gather at Oscar's Cafe during an April 19 celebration of new owners Kelly Bennett and Guy Winzenread. (Jerry McBride/Durango Herald)