South of Lake Tahoe is best described as a wonderland. Located in California's El Dorado County in the Sierra Nevada Mountains, the small town has a natural landscape that's ripe for adventure. It's no surprise that vacationers and tourists from all over the world flock to this photogenic region all year round. And for SUP Tahoe Stand Up Paddle owners, the recent upsurge in visitors has been an opportunity to expand their business to include bike rentals and a cafe.
They wanted an international studio to design their Pine Nut Cycle Cafe and create an interior with a truly global flavor. In this regard, there was no better practice than Melbourne's Biasol studio, which imbues everything it does with effortless sophistication and a fresh feel. The designers were inspired by their international design sensibilities and also considered the environment. "We took a holistic approach to design, incorporating the experience of being in a natural setting," explains Jean-Pierre Biasol, Director of Biasol. "And from that, we developed a color palette and branding inspired by the union of nature and craftsmanship."
The café, retail area and bike rental service area flow seamlessly, held together by a minimalist scheme. Custom details characterize the countertops and open merchandising unit, all of which have been crafted from American oak by local craftsmen. The softer grays and greens evoke the landscape of the pine forest, complementing the honey-colored woodwork and instilling a sense of calm, while throughout countertop tiles and polished concrete flooring add texture.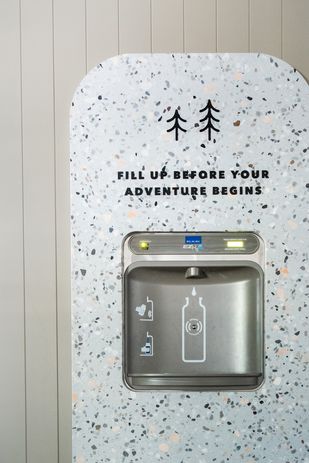 But the most striking element of the palette is the use of stone from Australian terrazzo brand Fibonacci, as the worktops, splashback, menu panel and rear panel of the display unit. The Moon Garden stone is decorated in pale grays, chocolates, nudes and whites, and punctuates the space with a stunning yet understated effect. For Biasol, no other stone could have done the trick. "We love how the Fibonacci Moon Garden subtly complements the overall materiality of the design," he explains. "Its natural color tones are truly unique and there is simply no other stone like it anywhere in the world. Our customers have actually researched many other terrazzo suppliers and have come to believe 100% in our selection.
Another benefit of using the Moon Garden product is the collaborative way Fibonacci works. One of the company's biggest priorities is to provide certainty of supply to designers and in this case that meant supporting Biasol through the challenges of delivering a project internationally and working in working closely with local artisans to provide invaluable advice. Fibonacci founder Michael Karakolis was incredibly pleased with the results. "We are grateful to Jean-Pierre and the client," he says. "This project personified the importance of collaboration to achieve a unique and exclusive result."
Using such a reliable and high quality product that will stand the test of time was also of the utmost importance here. It adds a timeless appeal to a thoughtful layout that ultimately makes the overall design more nuanced and the space itself even more inviting.
Presented by Fibonacci. You can see their full terrazzo range at fibonacci.com.au