Coffee is more than just an infusion, a morning pick-me-up, a handicap for nearby laptops and white pants.
Coffee is a community, according to Jojo Ty. Ty is one of the founding members of Fluid, a cooperative cafe in La Cocina market in Tenderloin, wholly owned and operated by trans people like them. At Fluid, this taste of community can be hot or iced, sometimes accompanied by a pastry.
"It's not just coffee and food," Ty said. "It's something very unifying. It can be a celebration or a healing. Being fed and cared for is unfortunately not something common for everyone, especially for our communities who face legal discrimination, housing inequalities, all these difficulties.
Fluid provides a safe space for people of all identities, but has been curated with joy and healing for specifically trans, non-binary, and gender non-conforming people. According to co-founder and "HBIC" Santana Tapia, the cafe fulfills the founders' dream of having a place in the city to just hang out and be themselves.
"When I was growing up, I watched Disney Channel and Nickelodeon," Tapia said. "And I would look forward to having the spaces that they had on those TV shows, like a smoothie shop or a pizza place to go and hang out with friends. But growing up in San Francisco, there was no place you could really hang out. It was about loitering and gentrification. And I grew up when Dolores Park was heavily guarded, so you couldn't even hang out in Dolores Park.
Both Tapia and Ty have said they wished a place like Fluid was there for them when they were younger. When the co-founders met through community organizing, they wanted to strike up a friendship, but struggled to find spaces to spend time together. Ty wasn't yet 21, so bars weren't on the table, and places where they could just sit for a while and feel comfortable were hard to find.
"There was always a lack of spaces to relax and just exist. So during the pandemic, I got a text from Jojo, and he was like, 'Hey, we've got this idea.' so we started thinking about what it would be like to have a space made for us," Tapia continued. "And we wanted that to mean something to us as well, you know, and coffee is so different in its culture, but he has so much impact."
Tapia and Ty, alongside their mentor, trans cafe pioneer Shannon Amitin, launched Fluid in August with a dream, a $3,000 seed grant and entry to La Cocina. When Fluid was born, they only offered filter coffee and cold brew. According to Ty, they were barely able to get a coffee machine at first, and their espresso machine didn't come on the scene until much later.
However, the co-op now has a 'papa café' – a member of the Sarello Buyco co-op – and a full menu, featuring their long-awaited espresso.
Their space at La Cocina is decorated with the light blue and pink colors of the trans flag, and educational brochures for young queers find their place on the bar next to milk and sugar. Much of their menu is inspired by the origins and individual identities of the founders.
"Coffee is so weird," Ty said. "Especially in San Francisco, there are so many queer and trans baristas, I've noticed. We all grew up on coffee.
Whether you're in the mood for their coffee of the day using queer roasted coffee beans, HR tea (femininitea or mascunlinitea, both containing natural, estrogen or testosterone boosting and/or blocking ingredients), calamansi -Ade Ty's favorite, the Japanese sweet cream cold brew, or cafe de olla made according to the family recipe of Tapia, the wide variety of drinks offered by Fluid is in the image of the founders themselves.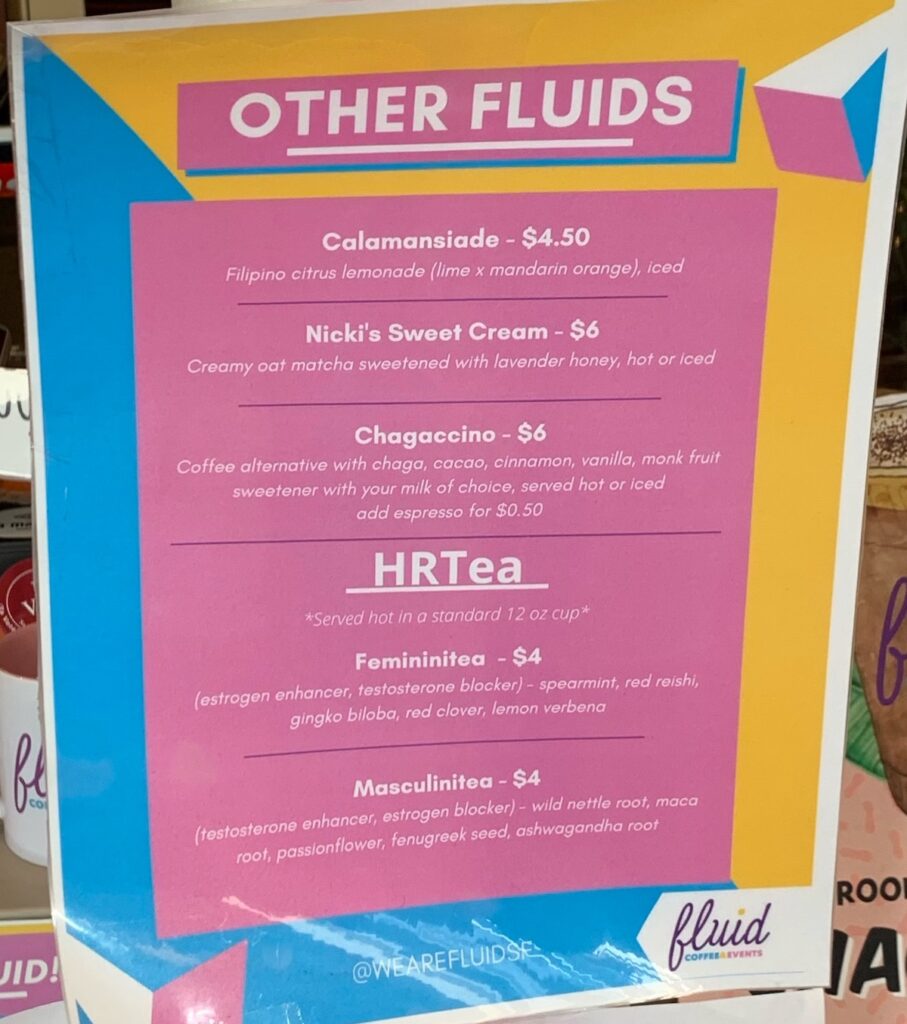 "Most of our drinks will have cultural or personal significance to them," Tapia said. "Because we are not only trying to sell a product, but also to share a part of ourselves with the community and with our customers."
For Tapia, who is Latina and a child of immigrants, coffee has "always been cultural," something that has been part of her daily life since she was a child.
"One of the main memories I have with coffee is sitting at my grandmother's table every time I went to visit her. And she always made cafecito," Tapia said. My family grew up sticking with what they had, and we didn't have access to all the spices used in traditional café de olla, so we just used cinnamon sticks and sugar, but everything was always perfect. So that's how we do it here, bringing the classic flavors of Mexico through a more humble upbringing.
Fluid's beginnings were also humble, and the biggest challenges the cafe faced were financial.
"Our community doesn't come from a lot of money, we recognize that," Ty said. "That's why we're really looking for allies, like, hey, even if you can't donate to us, coming to our house instead of a Philz or a Peet's does a lot."
Despite the fiduciary obstacles they have faced, Fluid continues to grow and give back to the community. Fluent customers who can't afford a cup of coffee or something to eat can simply take a little butterfly off the wall of the cafe and hand it to the cashier, without having to say a word, and receive their order for free. This is their "pay it forward" program, and the colorful butterflies are available for purchase for those who wish to contribute. According to Tapia, the butterflies were the perfect symbol, as they represent the trans experience through shared qualities of transformation and migration.
"Before we launched a Pay It Forward program, we were more than willing to offer free drinks to people who couldn't afford them," Tapia said. "We understand that the way you greet someone, when they first walk through the door, a smile to start the day can be just as impactful as a cup of coffee. Once you walk in, we want that you feel like part of the family."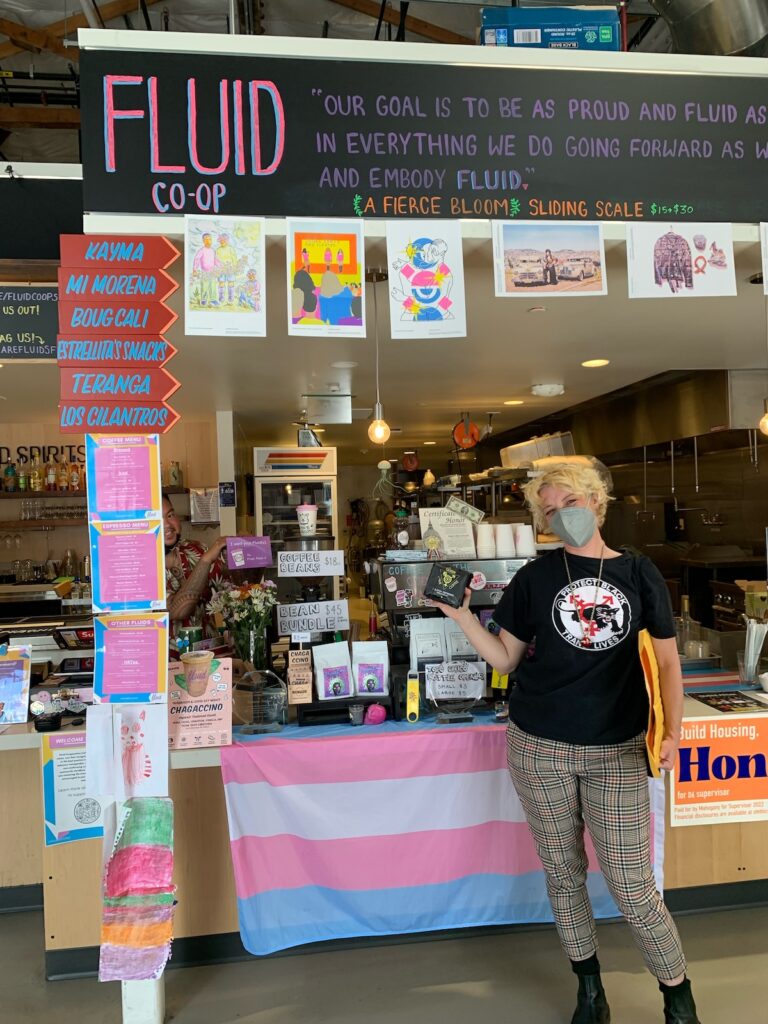 For Tapia, Fluid's success was measured in joy and relaxation. She says giving queer people a space to go and feel the freedom to laugh and care for themselves without worry is especially important in the face of legislative and personal attacks on the LGBTQ+ community.
"We were able to experience the space around us being filled with queer trans people who exist and enjoy life without having to take the extra step of feeling safe or doing anything to feel safe," she said. "Because they already know that this space is made for them. At the end of the day, we want people to be here, you don't have to have a cup of coffee. You don't have to buy anything. Come in and we will always make you feel welcome."
San Francisco is opening up to new community spaces like Fluid, but the concept of curating safe spaces for queer people in the city, especially in the Tenderloin, is not new. Fluid was built with the conflicting history of community gathering places like the cafeteria in Compton in mind.
"Fluid is nothing new," Ty said. "We always say, Fluid, or the very existence of our community, I feel like our role is to continue what was already started by our trans-estors, our queer ancestors. They have always fought to have a space to be seen, to have their own space.
In contrast, as Fluid's website points out, queer people no longer just fight to be accepted and sit at the table, they build the table themselves. Part of Fluid's vision for the future is to hold more community events, like annual homecomings and proms, game nights, and other opportunities to celebrate gayness and promote community. and healing.
"Now with our programming and what we're doing, we're scaring a lot of people because we're creating this table," Tapia said. "And people don't settle for crumbs anymore, when they know they can have a piece."
FLUID is located inside La Cocina Market, 101 Hyde, SF. More info here.