Customers can feel like stepping into the world of manga at Mono.Chro Chaya Cafe in Kanazawa. (Shinkai Kawabe)
KANAZAWA – A newly opened cafe here has created a buzz on social media as stepping into the cafe feels like stepping into the world of manga, with everything in black and white.
Mono.Chro Chaya stands in the middle of an old cityscape about 500 meters from Kanazawa Station.
The walls and floor are painted white and outlined in black along the grain of the wood.
A black and white rendering of the raging waves from "Thirty-six Views of Mount Fuji" by Katsushika Hokusai, a famous ukiyo-e woodblock artist of the late Edo period (1603-1867), adorns a wall.
There is also a Kenrokuen Garden scene covered in snow.
Owner Yoshiyasu Sakagami plans to have local students and illustrators draw landscapes on the walls currently featuring photos of "fusuma sliding doors".
"We want customers to join us in creating the cafe together," said Sakagami's wife, Mika, who runs Mono.Chro Chaya.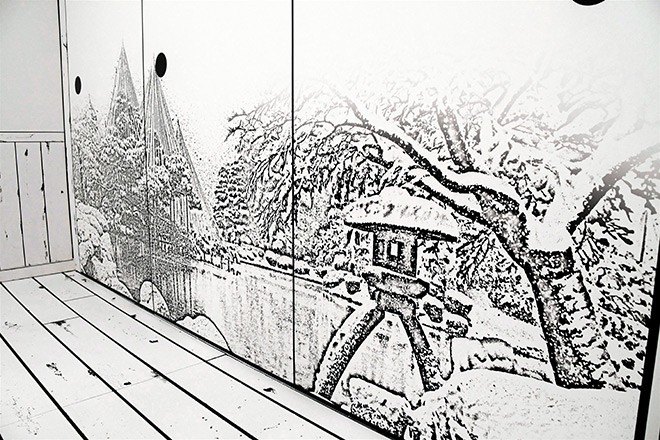 Sakagami, 35, came up with the idea about two years ago when he was painting the hems of a white sneaker black to make it look like it came straight out of a black and white photo.
He thought it would be fun to do the same thing for a whole cafe.
Sakagami, who is an architect running a housing company, used his knowledge to create CGI renderings for the cafe's designs and interior design.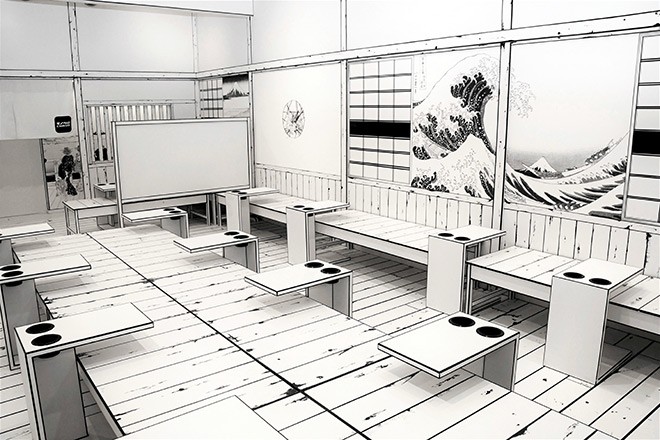 He spent four months working on the interior with the help of four local students.
He decided to serve ice cream at the cafe because Kanazawa topped the list of annual household spending on ice cream products in a 2020 family income and expenditure survey in major cities.